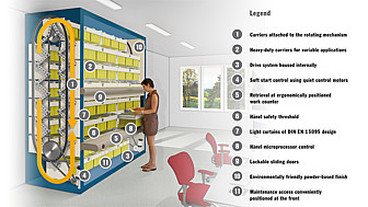 _The optimum filing system for records management
Productivity – cost reduction – efficiency:
these are the challenges faced by today's office organization! Quality and leading-edge technology 'Made by Hänel' In 1953 Gerhard Hänel founded the office equipment company 'Hänel Bürosysteme'. By 1957 Hänel was series-producing filing carousels based on the Ferris wheel principle – the first manufacturer in Europe to do so. Today Rotomat® carousels and Hänel Lean-Lifts® are produced in three manufacturing plants – and exported worldwide. Hänel has distributors in over 60 countries across the globe. Innovation and performance, dynamics and ideas, new technologies and team spirit have made Hänel one the leading providers of storage and organization systems. With the Hänel Rotomat® office carousel, we offer a flexible organ - ization and filing system that adapts optimally to your needs. Up to 60% more storage capacity The Rotomat® office carousel from Hänel makes use of the available room height, so its compact design creates up to 60 % more filing capacity. This means expensive office space is used more efficiently. Fast and efficient The Rotomat® office carousel from Hänel brings the required files to the retrieval point in just a few seconds. Ergonomics No more bending, ladder-climbing or walking long distances to search for and archive records. The required files are brought automatically to the optimum ergonomic retrieval height. The right decision If you want to improve your office organization methods and cut costs, you should first speak with our specialists – together we can work out a tailor-made system concept.

For more info call us.

---
---